Conceived in 1976, the Team has over 100 members who fulfill many different functions in the organization such as rescuing lost alpine and cross-country skiers, locating downed aircraft, rescuing stranded hikers and climbers, educating the public about mountain safety, and many other support functions.
Team members, along with community supporters, organize The Great Ski Race, which continues to be one of the largest Nordic ski races west of the Mississippi. Race proceeds are used primarily to purchase equipment for the Team, and to support winter survival and avalanche education programs sponsored and conducted by the Team.
The Great Ski Race has gone from 60 racers being manually timed in 1977, to more than 600 racers with electronic timing in 1985, to more than 800 racers in 2001. In 2005 all records were broken, with 1109 registered racers, 1029 finishers, and the fastest womens time yet!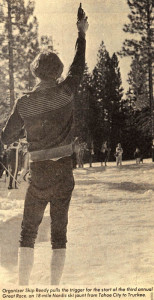 The Great Ski Race was inspired by the route Jack Starratt of Tahoe City took decades ago to deliver the mail when Tahoe was cut off from "civilization" by heavy snow. Starratt Pass at 7,770 feet, near the high point of the course, honors his name and deeds. The founder of Tahoe Cross Country ski area (then called Tahoe Nordic) was Skip Reedy, who used to travel the terrain as a ski tour, and felt the course was a natural for a long ski race, something that was lacking in the Tahoe area. The race was the brainchild of Skip and his friends at Search and Rescue.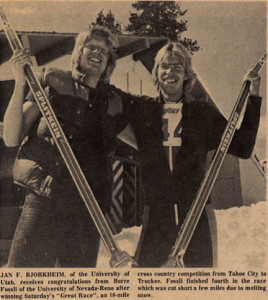 The inaugural event was in 1977, with a hardy 60 racers braving the elements and terrain on traditional "classic-style" waxable skis. Jan Bjorkheim, a former University of Utah nordic champion, won that race in a time of 1 hour and 44 minutes, while Melissa Duffy took the women's honors in a leisurely 3:05. Now, with ultra-light racing skis, pure fluorocarbon waxes, and the faster skating technique, the men's record is a remarkable 1:06:51 (by Marshall Greene of Bend, Oregon in 2008), and the women's record is close-behind in 1:14:03 (by Brooke Baughman in 2005).
Those first veterans would have a hard time recognizing the modern-day Great Ski Race. Now, the thousand or so competitors line up in waves at the start line, which makes the beginning of the race a thousand-times saner for all the competitors behind the front line. Racers seed themselves (with the exception of the very fastest wave) into groups of 200 hundred or so, depending upon their expected finish time. First implemented in 2004, the waves are staggered in 3-minute increments, resulting in far fewer crashes and broken pieces of equipment in the first few kilometers.
In 2022 the race course was changed from a point-to-point race (Tahoe City to Truckee) to a loop course, starting and ending at the Tahoe Cross Country Nordic Center.